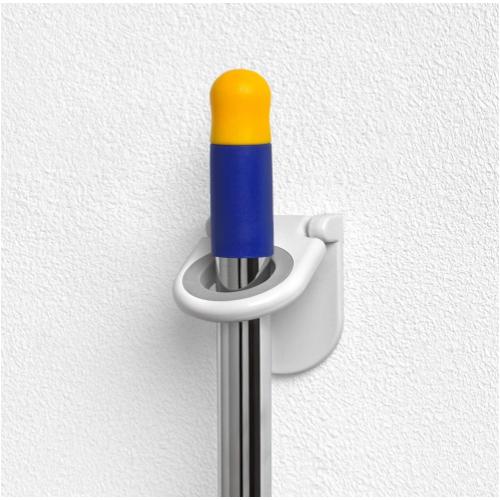 Spectrum Single Broom Holder
STURDY FRAME SUPPORTS ESSENTIALS: The organizer is designed to support most mops, brooms, and other cleaning supplies. The minimalist design ensures it will never go out of style or look outdated for a clean look and reliable storage.
HOLDS ESSENTIAL CLEANING SUPPLIES: Two non-slip loops hold standard-sized mops and brooms. The collapsible hoops swing up to hold your mop or broom securely in place. Three hooks also hold cleaning rags, dustpans and dusters to save counter space.
INCREASE STORAGE: Store your mop and broom on the wall to increase storage without sacrificing square footage. Make more room in your laundry room, closet, mudroom, or utility closet by keeping your cleaning supplies upright.
EASY WALL MOUNTING: Brackets are built into the design for easy mounting; simply insert the screws into the holes and a pre-drilled hole in the wall, then tighten the screws until the rack feels firmly fastened. Mounting hardware included.
DIMENSIONS & CARE: 11. 25" L X 1" W X 3" H; to clean, wipe with a damp cloth and towel dry.
SUPPLIES MADE EASY
We've run salons and distributed professional beauty supplies to professionals for over 25 years. Over the years we've continued to improve our process to provide a painless way to help professionals with their business. At Stockjoy our goal is to reduce the time spent thinking about supplies to allow you, the professional, to focus on your relationships with your clients.