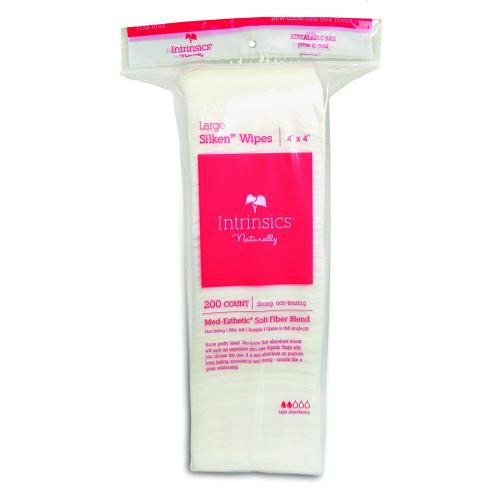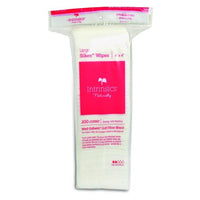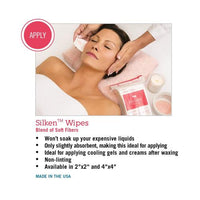 Intrinsics Large Silken Wipes - 4" x 4" - 200 ct
APPLY: Low absorbent blend of fibers, makes this wipe ideal for applying product to the skin without wasting expensive beauty creams and liquids. Leaves more of the product on the skin and less on the wipe. Save time and money

OPTIONS: Available in two convenient sizes, large (4"x4") and petite (2"x2"), depending on your personal needs. Each wipe opens to a 4"x4" single-ply, skin-ready wipe.

SILKY SMOOTH: Soft and luxurious feeling. Bring the luxury and pamper of your favorite spa to your daily routine at home. These professional skincare essentials are used by top, certified estheticians, renowned spas and salons all over the world.

CLEAN CANVAS: Each versatile wipe leaves behind no lint on skin surface to interfere with skincare procedures or irritate delicate skin tissue.

SPA QUALITY: Bring your beloved beauty spa straight to your bathroom with these professional skincare essentials used by top, certified estheticians, dermatologists, and plastic surgeons, as well as renowned spas and salons all over the world.
SUPPLIES MADE EASY
We've run salons and distributed professional beauty supplies to professionals for over 25 years. Over the years we've continued to improve our process to provide a painless way to help professionals with their business. At Stockjoy our goal is to reduce the time spent thinking about supplies to allow you, the professional, to focus on your relationships with your clients.