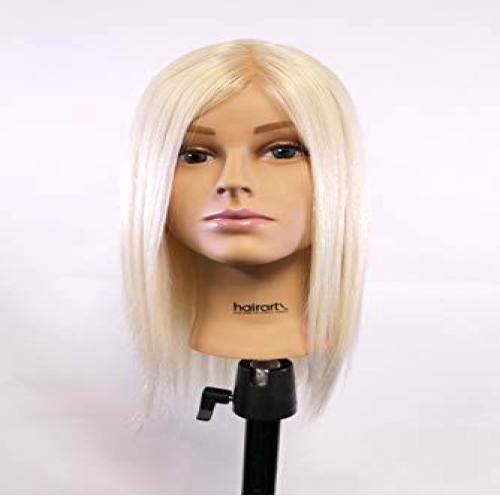 Hair Art Mannequin Head- Olivia
HairArt Practice Mannequins Never Melt Under Pressure: 100% real human hair, color deposit like a pro.
Measuring 15" in length, this 100% European Hair is processed to blonde color level-10. Has a sleek and silky texture and natural tone make-up. Skip the lightening process and go straight to coloring, achieves true color results!
Perfect for color deposit, Olivia is the Human Hair Mannequin colorists love!
• Color: Blonde Level-10
• 100% European Hair (Human Hair Color Deposit Mannequin Doll Head)
• Sleek & Silky Hair
• Blonde color saves stylists color lifting time and money
• Beautiful face design with 100% human hair eyelashes
• Gives true results when using color, chemically treated, or heat styled
• Natural hairline makes it ideal for cutting and styling
• Hair strands are woven in the mannequin with cuticle facing in the same direction so the hair will not tangle. (Tri-pod not included.)
SUPPLIES MADE EASY
We've run salons and distributed professional beauty supplies to professionals for over 25 years. Over the years we've continued to improve our process to provide a painless way to help professionals with their business. At Stockjoy our goal is to reduce the time spent thinking about supplies to allow you, the professional, to focus on your relationships with your clients.