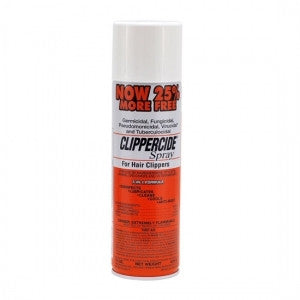 This incredible product is designed to disinfect and lubricate all models of hair clippers. This creates effective bactericidal, fungicidal, and tuberculocidal action. How does it work? The spray will leave a thin film of lubricant in order to reduce friction and permit clippers to run smoother. The Clippercide will also spray and blow hair and dirt out from between the teeth of your clippers; thus cleaning and at the same time cooling the blades. This means that your clippers will enjoy a longer life. So make sure to purchase today and give your clipper blades a longer cutting life.
Larger size means 25% more spray
Clippercide is a tuberculocidal hospital disinfectant
Effective against bacteria, viruses, and fungus
Reduces friction and guards against rust
Clippercide helps prolong clipper life
Spray blows hair and dirt from between clipper teeth
SUPPLIES MADE EASY
We've run salons and distributed professional beauty supplies to professionals for over 25 years. Over the years we've continued to improve our process to provide a painless way to help professionals with their business. At Stockjoy our goal is to reduce the time spent thinking about supplies to allow you, the professional, to focus on your relationships with your clients.