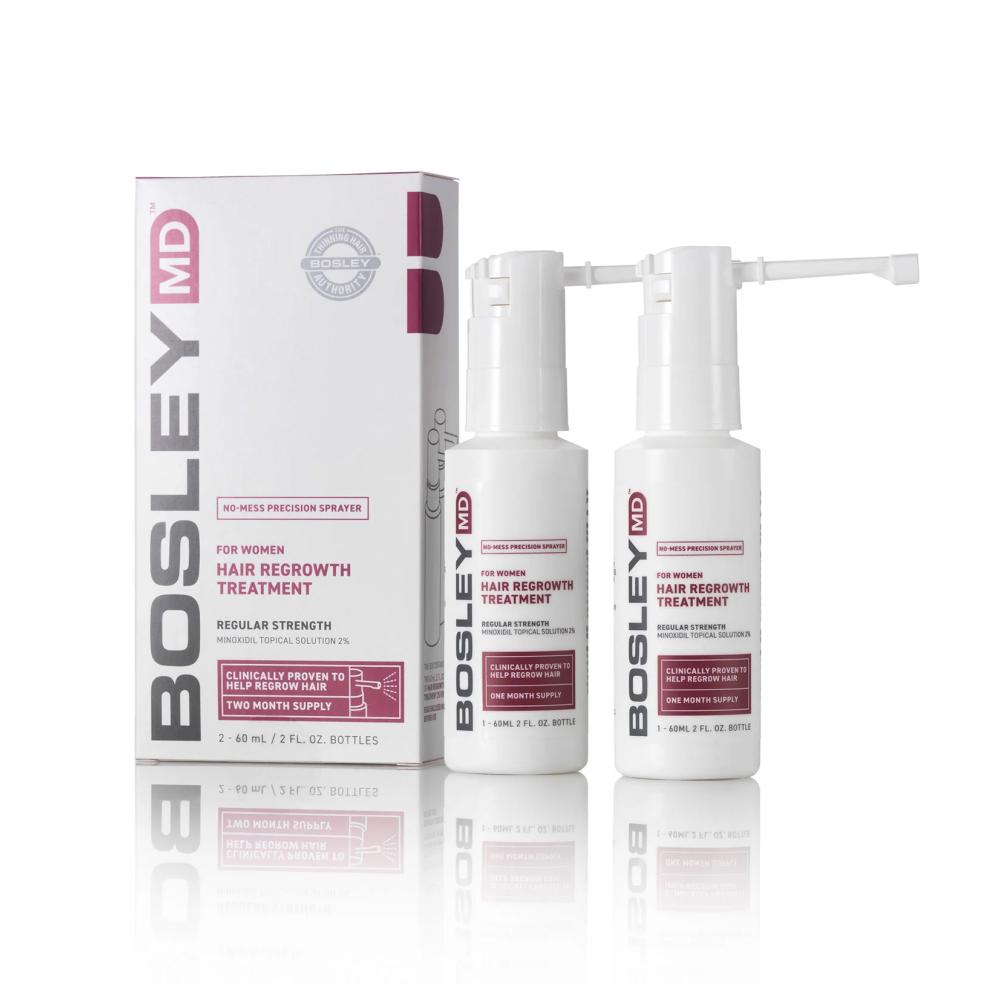 Bosley Women's Regrowth Treatment 2% Spray- 2 month
Clinically proven to regrow hair and slow down further hair loss, Hair Regrowth Treatment with Minoxidil formulated exclusively for Women is a leave-in, FDA-approved treatment available in no-mess sprayer application. 60 day supply.
How To Use
Important: When applying BosleyMD Hair Regrowth Treatment, make sure the medicine comes in direct contact with the scalp. The medicine will not work if it is sprayed only on your hair and does not reach your scalp. Carefully follow the instructions below to use the child-resistant sprayer pump to apply BosleyMD Hair Regrowth Treatment.
Remove the bottle of BosleyMD Hair Regrowth Treatment from the carton.
Firmly hold the bottle upright with the turning wheel on the back of the bottle facing you.
Push in the small tab located to the bottom right of the turning wheel.
While holding the tab in, press down on the top of the sprayer and turn the upper part of the sprayer with the turning wheel to the left until the spray nozzle is centered between the beveled grooves on the front of the bottle.
Then prime the sprayer by holding the bottle upright and pumping the sprayer 5 times to ensure delivery of a full spray. Be careful not to inhale the mist.
Aim the sprayer at your area of thinning hair or hair loss and pump the sprayer 6 times to apply a 1 mL dose twice a day.
After applying BosleyMD Hair Regrowth Treatment, use the turning wheel to turn the sprayer cap back to the right to release the tab which places the sprayer nozzle behind the sprayer cap wall. Make sure the sprayer cannot be pushed or pumped before putting the bottle away.
SUPPLIES MADE EASY
We've run salons and distributed professional beauty supplies to professionals for over 25 years. Over the years we've continued to improve our process to provide a painless way to help professionals with their business. At Stockjoy our goal is to reduce the time spent thinking about supplies to allow you, the professional, to focus on your relationships with your clients.