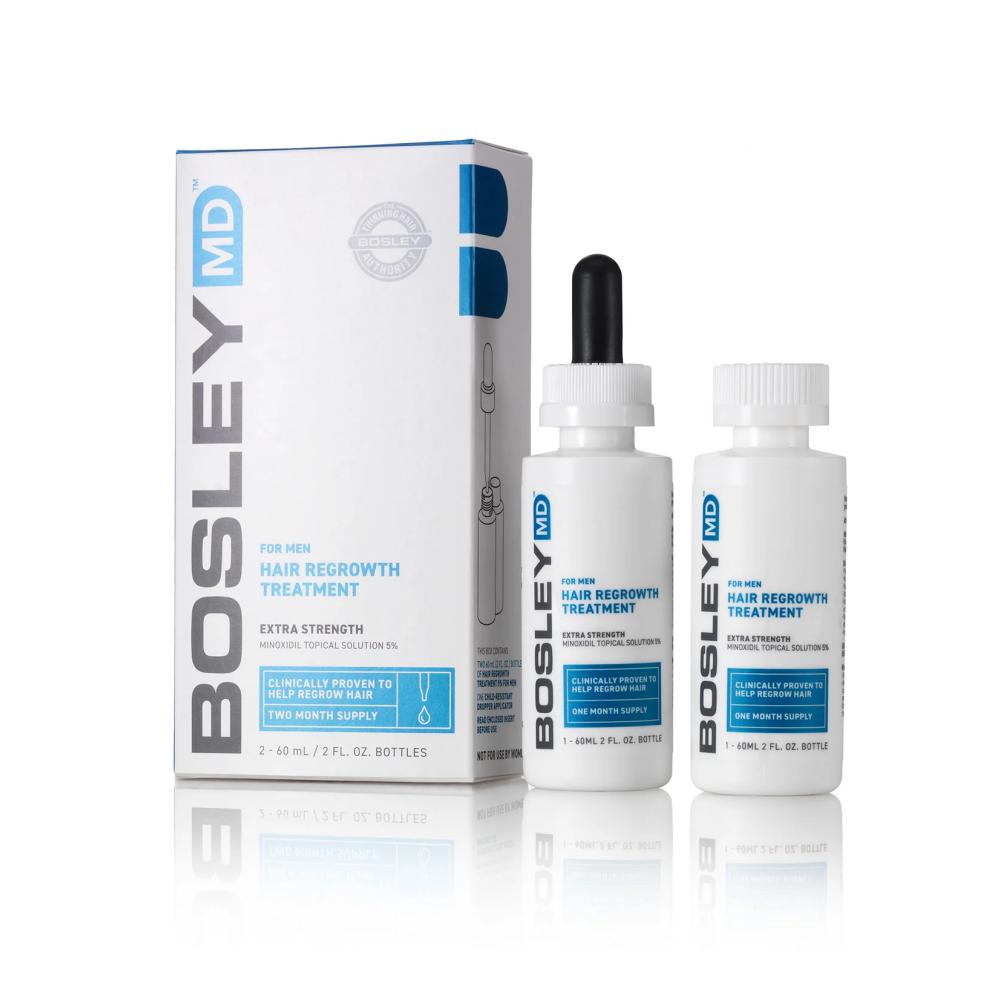 Bosley Men's Hair Regrowth Treatment 5% Liquid- 2 Month
Clinically proven to regrow hair and slow down further hair loss, Hair Regrowth Treatment with Minoxidil formulated exclusively for Men is a leave-in, FDA-approved treatment available in dropper application. 60 day supply.
How To Use
Important: When applying BosleyMD Hair Regrowth Treatment, make sure the medicine comes in direct contact with the scalp. The medicine will not work if it is applied only on your hair and does not reach your scalp. Safe to use morning and night.
Remove the cap. To remove, push down and turn in direction of the arrows on the cap.
Part your hair in the area of hair thinning or loss.
Push in the small tab located to the bottom right of the turning wheel.
Squeeze the rubber bulb and insert the dropper into the bottle. Release the bulb, allowing the dropper to fill to the 1 ML line. If the level of the solution is above the 1 ML line, squeeze the extra amount back into the bottle.
Next, place the tip of the dropper near the part of the scalp you want to treat and gently squeeze the bulb to gradually release the solution. To prevent the solution from running off the scalp, apply a small amount at a time.
After each use attach the dropper to the bottle to make it child-resistant by turning it clockwise until tightly closed.
Apply 1 ML 2 times a day directly onto the scalp in the hair loss area. Do not use more. Spread the liquid evenly over the hair loss area. If you use your fingers, wash hands with soap and water immediately. Each bottle should last about one month if used as directed. Use a mild shampoo if you wash your scalp before applying BosleyMD Hair Regrowth Treatment Extra Strength for Men.
SUPPLIES MADE EASY
We've run salons and distributed professional beauty supplies to professionals for over 25 years. Over the years we've continued to improve our process to provide a painless way to help professionals with their business. At Stockjoy our goal is to reduce the time spent thinking about supplies to allow you, the professional, to focus on your relationships with your clients.